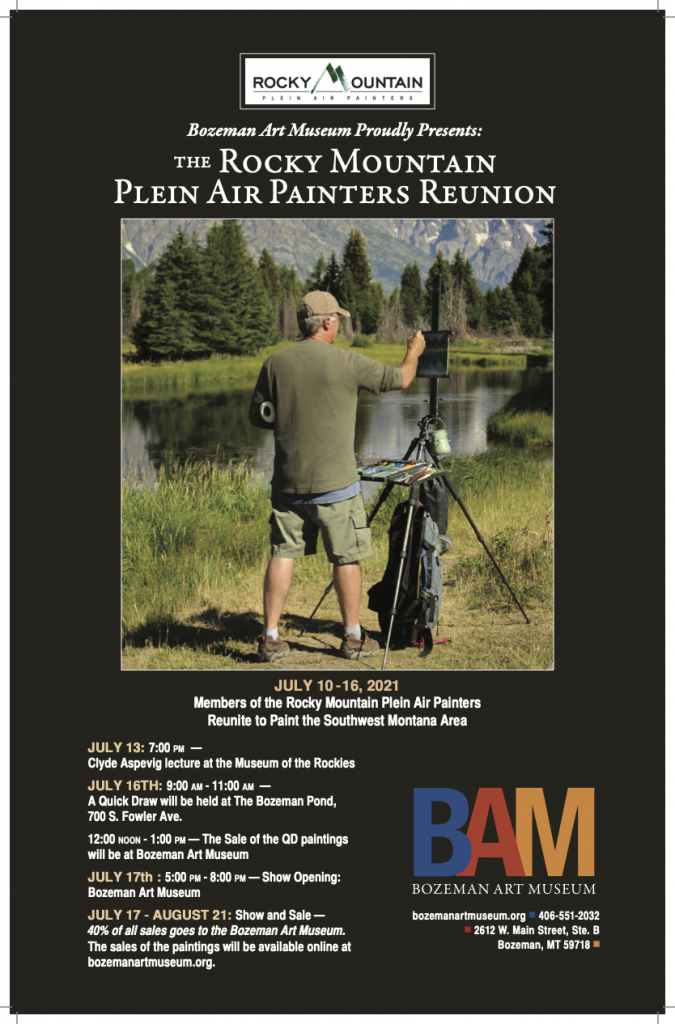 Join us for this Rocky Mountain Plein Air Painters (RMPAP) Reunion Exhibit as the Members of the RMPAP reunite to paint the Southwest Montana Area!
Show up and available for public viewing July 17 – August 21, 2021.
The Museum is closed from Saturday, July 10 until Friday, July 16 at noon for the sale of Quick Draw artwork.
We will be opening on Saturday, July 17 from 5:00 to 8:00pm and regular hours thereafter for the RMPAP Reunion Exhibit.
Overview of Events:
July 13, 7:00pm: Clyde Aspevig lecture at the Museum of the Rockies
July 16, 9:00-11:00am: A quick draw will be held at the Bozeman Pond, 700 S. Fowler Ave.; 12:00-1:00pm: Sale of the quick draw paintings will be at Bozeman Art Museum
July 17th, 5:00-8:00pm: Show Opening at Bozeman Art Museum
July 17th – August 21, 2021: Show and Sale. 40% of all sales goes to the Bozeman Art Museum.
Thank you to all who came to support the museum and these wonderful painters!